INSTITUTIONALIZATION OF SCIENCE AND THE SOCIAL FUNCTIONS OF THE UNIVERSITY — DIFFICULTIES AND OPPORTUNITIES
Abstract
It is evident that, especially in the recent decades, the scientific institutions have strongly evolved and modified their structures in order to be adapted to the changing socio-cultural environment as well as to be more aware of the need to generate new knowledge in order to support the economic growth. Social sciences tried to interpret the process of institutionalization of science in the academic world in various ways, analyzing the social components of the process of creating the knowledge.
The approach in social sciences is primarily characterized by the study of the level of institutionalization that enables the study of the features that, in turn, define science as a social institution. This approach is useful in the study of higher education systems because the institutionalized principles make the structure of an organization and primarily provide the information about what regulates the formation of a university and not only about what regulates the behavior of an individual.
The organization of the university is a clear example to understand the changes that are taking place in social institutions based on scientific and technological knowledge.
In fact, in recent decades, universities have changed the way they organize their activities. The new requirements favor the reorganization of the knowledge creation process which has significant consequences for changes in the internal structure of a science institution.
This article focuses on the analysis of the process of institutionalization of science. This approach to science is primarily characterized by the analysis of the features that define science as a social institution. In this context, the most important challenges and difficulties related to these processes in a globalized world are presented.
Downloads
Download data is not yet available.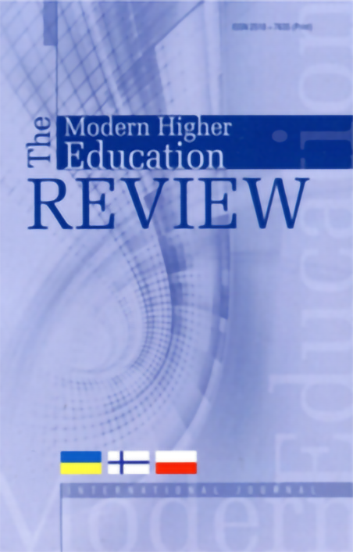 Abstract views: 58 Downloads of PDF: 71
How to Cite
Charchuła, J. (2020). INSTITUTIONALIZATION OF SCIENCE AND THE SOCIAL FUNCTIONS OF THE UNIVERSITY — DIFFICULTIES AND OPPORTUNITIES. The Modern Higher Education Review, (5), 50-61. https://doi.org/10.28925/2518-7635.2020.5.5
Section
SOCIAL AND CULTURAL ASPECTS OF HIGHER EDUCATION
Copyright (c) 2021 The Modern Higher Education Review
This work is licensed under a Creative Commons Attribution-NonCommercial 4.0 International License.