SOCIAL LEADERSHIP: CRITERIA, INDICATORS AND LEVELS OF FORMATION IN FUTURE SOCIAL WORKERS
Abstract
Nowadays it is extremely important for society to be aware of the professional and experienced professional training of the future social workers. The article is devoted to the main issue of formation the social leadership in the conditions of professional training the future social workers. Contemporary conditions indicate the need to highlight certain scientific approaches to leadership in social work. It is determined that the theoretical study of the phenomenon of "social leadership" as a social phenomenon at the present stage of development of society determines the search for criteria for its formation in future professionals in the social sphere. On the basis of substantiated criteria (motivational-value, cognitive, activity-behavioral) there are established the corresponding indicators that reflect the characteristic of the manifestation the levels of formation the social leadership at future workers in social work (reactive, active, proactive).
The purpose of the research is to determine the criteria, indicators and levels that can further influence the dynamics of social leadership in students — future social workers to improve the current state of society, in particular in the field of social work.
The realization of this goal involved the use of the following methods: scientific knowledge, analysis of scientific literature, synthesis, comparison, generalization, specification, classification, systematization as well as the descriptive method.
Based on the analysis, it is characterized that the components of social leadership and substantiates the criterion, indicators and levels of its formation in accordance with the understanding of the factors of formation of social leadership of future social workers in terms of training.
Downloads
Download data is not yet available.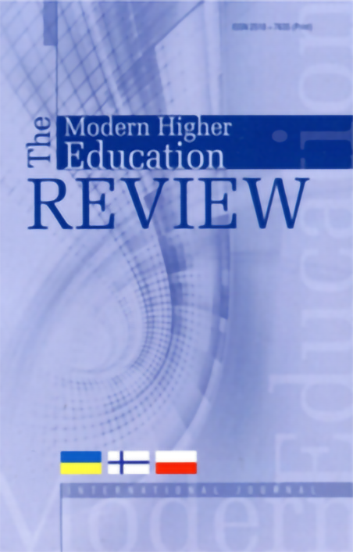 Abstract views: 103 Downloads of PDF: 56
How to Cite
Bybyk, D. (2020). SOCIAL LEADERSHIP: CRITERIA, INDICATORS AND LEVELS OF FORMATION IN FUTURE SOCIAL WORKERS. The Modern Higher Education Review, (5), 72-80. https://doi.org/10.28925/2518-7635.2020.5.7
Section
SOCIAL AND CULTURAL ASPECTS OF HIGHER EDUCATION
Copyright (c) 2021 The Modern Higher Education Review
This work is licensed under a Creative Commons Attribution-NonCommercial 4.0 International License.