CASE STUDY: THE DIDACTIC MODEL OF SOCIO-COGNITIVE THEORY OF LEARNING IN THE TEACHING OF ENGLISH AS A FOREIGN LANGUAGE. TEACHING STATE AND ACTIVITY VERBS
Abstract
Language has generally been characterized as a tool of communication between people, the mean by which man expresses his feelings and thoughts. It has been the subject of research from various angles and methodological standards that largely reflect the variety of dimensions from which it can be studied but also the prevailing analysis trends. Language is also seen as a social process, as a way of creating interpersonal relationships and expressing emotions. Therefore, integrated language teaching takes into account the social character of the language and relies on it. The linguistic and cultural diversity within the European Union has created new demands for multilingual European citizens. To meet the new requirements, it is necessary, educational strategies to be designed by those who actively involved in foreign language education in various countries in a new context, which will ensure the "productivity" of learning foreign languages in the implementation of foreign language education. There is an urgent need to promote the process of communicative teaching, so that the student who learns the specific foreign language transmits his own concepts, in the cases, interacting and trying to adapt to the common knowledge and even the linguistic ability of a person that this language is his/her mother tongue. The approach to the service of the communicative type of teaching emphasizes the communicative function of the language and tries to create in the students the opportunities for functional use of the language code, similar to those they will encounter outside the classroom.
Students need to connect with each other to build friendly relationships within the classroom that becomes a student community. This effort also includes this paper, which introduces the model of socio-cognitive learning theory in the context of the communicative approach to the teaching and learning of foreign languages.
Downloads
Download data is not yet available.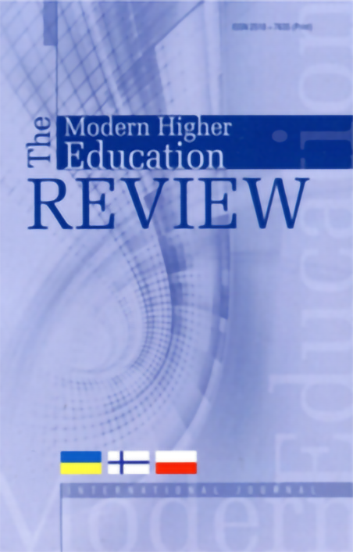 Abstract views: 98 Downloads of PDF: 56
How to Cite
Pappas, G. (2020). CASE STUDY: THE DIDACTIC MODEL OF SOCIO-COGNITIVE THEORY OF LEARNING IN THE TEACHING OF ENGLISH AS A FOREIGN LANGUAGE. TEACHING STATE AND ACTIVITY VERBS. The Modern Higher Education Review, (5), 10-19. https://doi.org/10.28925/2518-7635.2020.5.1
Section
Continuing Professional Education: Theory and Practice
Copyright (c) 2021 The Modern Higher Education Review
This work is licensed under a Creative Commons Attribution-NonCommercial 4.0 International License.