CIRCULAR ECONOMY EDUCATION: EXPERIENCE OF FINLAND
Keywords:
higher education, circular economy, the degree programmes, methods, education format
Abstract
Since the announcement of the National economic strategy 2030, the transition to a circular economy has become an agenda for Ukraine. In these conditions searching for good experience and practices is an essential priority for national higher education. The research focuses on analysing educational experience in the circular economy in the Republic of Finland. The Republic of Finland has become the first country to provide degree programmes in the circular economy. This theoretical research is based in particular on literature review as well as analysis of Finnish universities websites for studying the degree programmes (their learning content and structure), methods and forms of education. The article presents a generalised analysis of the bachelor, master and doctoral programmes in the circular economy or related sciences. The main findings are methods of education in circular economy distinguished according to the following principles: historical (project-based), priority in the pedagogy implementation (teaching and learning), students activities (combined methods), teaching strategies (heuristic methods), source of knowledge (direct or indirect study of reality). The project-based method dominates when a multidisciplinary student team designs the project. The education format varies from traditional to online.
Downloads
Download data is not yet available.
References
Bachelor Programs in Sustainability Studies in Finland. (2021). KEYSTONE. Bachelor Studies. URL: https://www.bachelorstudies.com/Bachelor/Sustainability-Studies/Finland/
Bugallo-Rodríguez, A., Vega-Marcote, P. (2020). Circular economy, sustainability and teacher training in a higher education institution. International Journal of Sustainability in Higher Education, 21(7), 1351-1366. DOI: https://doi.org/10.1108/IJSHE-02-2020-0049
Circular Economy and Education (2016). Conference report. Porto, June 6. 2016.
Doctoral Researcher (Bio and Circular Economy) (2019). Tampere University, Finland. ScholarshipDb.Net. URL: https://scholarshipdb.net/scholarships-in-Finland/Doctoral-Researcher-Bio-And-Circular-Economy-Tampere-University=_qMBmWK56RGUWgAlkGUTnw.html
Ellen MacArthur Foundation. https://ellenmacarthurfoundation.org/resources/education–and–learning/teaching–resources
Khataybeha, A.M, Subbarinia, M. Shurman, S. (2010). Education for sustainable development, an international perspective. Procedia Social and Behavioral Sciences, 5, 599–603. doi:10.1016/j.sbspro.2010.07.149
Kioupi, V. and Voulvoulis, N. (2019). Education for Sustainable Development: A Systemic Framework for Connecting the SDGs to Educational Outcomes, Sustainability, 11(21), 6104, https://doi.org/10.3390/su11216104
LUTUniversity. Official site. URL: https://www.masterstudies.com/Masters-Programme-in-Circular-Economy/Finland/LUTUniversity/
Mäkiö, I. & Virta, M. (2019). Menetelmiä kiertotalouden opettamiseen - opas ja työkalupakki. Painopaikka: PunaMusta Oy, Juvenes Print, Tampere 2019. 46p. http://julkaisut.turkuamk.fi/isbn9789522167217.pdf
Mospan N. (2016b). Teacher education graduates in Ukraine: Current state of play. Cogent Education, Vol.3. 1-19. http://dx.doi.org/10.1080/2331186X.2016.1221192
Mospan, N. (2016a). Students training tendency in the EU and Ukraine: legal aspect. The Morden Higher Education Review, 1, 115–120. http://orcid.org/0000-0001-8610-7965
Sukiennik M., Zybała K., Fuksa D. Kęsek M. (2021). The role of universities in sustainable development and circular economy strategies. Energies 2021, 14(17), 5365; https://doi.org/10.3390/en14175365
Sumter, D., de Koning, J., Bakker, C. & Balkenende, R. (2021). Key Competencies for Design in a Circular Economy: Exploring Gaps in Design Knowledge and Skills for a Circular Economy. Sustainability (Switzerland). 13, pp. 1-15. https://doi.org/10.3390/su13020776
Sysoieva S., Batechko N., Mospan N. (2018). Module Piloting for PhD Training: Experience of Ukraine. Journal of Modern Education Review, 8 (9), 661–666. http://www.academicstar.us/issueshow.asp?daid=2268
Sysoieva S., Mospan N. Concept of Competence in the International and National Educational Contexts. Continuing Professional Education: Theory and Practice, 1-2 (54-55), 7–15. DOI: https://doi.org/10.28925/1609-8595.2018(1-2)715
The opportunities for the circular economy for Finland (2015). Sitra. 72p. https://media.sitra.fi/2017/02/28142449/Selvityksia100.pdf
UNESCO. (2021). What is Education for Sustainable Development? https://en.unesco.org/themes/education-sustainable-development/what-is-esd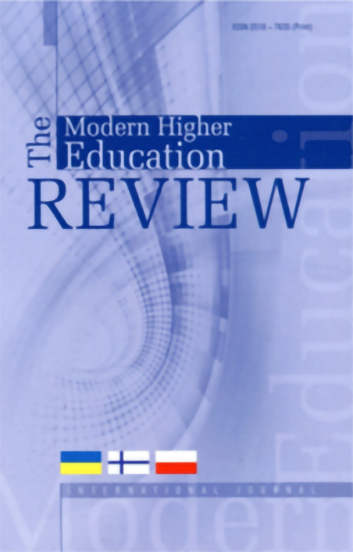 Abstract views: 57 Downloads of PDF: 59
How to Cite
Sysoiev, O. (2021). CIRCULAR ECONOMY EDUCATION: EXPERIENCE OF FINLAND. The Modern Higher Education Review, (6), 76-86. https://doi.org/10.28925/2518-7635.2021.66
Section
Continuing Professional Education: Theory and Practice
Copyright (c) 2021 The Modern Higher Education Review
This work is licensed under a Creative Commons Attribution-NonCommercial 4.0 International License.