PRACTICAL TRAINING OF STUDENTS AT POLISH UNIVERSITIES USING WSG UNIVERSITY IN BYDGOSZCZ AS AN EXAMPLE
Keywords:
students, universities, practical training, educational offer, qualification system, higher education
Abstract
Reflections about strategic development of vocational education require not only a reliable diagnosis of selected socioeconomic conditions, but all the above forecasts based on this diagnosis. Modern education is a symbiosis of relations with its socioeconomic environment. In recent years these relations have been generally one-sided, the so called environment has tried to influence the directions and programs of vocational education. As a result, educational institutions have been under pressure from the labor market. Nowadays, there is the two-side connection in which institutions of vocational education begin to affect - through their graduates – the labor market.
Downloads
Download data is not yet available.
References
Bogadzh, A, Kwiatkowski, M. (2006) School and the labor market. Warsaw (in Polish).
Tsarnyk, S., Keller, K., Strzebonska, A., Shklarczyk, D. (2011) Polish women and Poles in the labor market. Research report, Warsaw (in Polish).
Federovich, M., Sitek, M. (2010) Report on the state of education. Warsaw. (in Polish).
Frąckowiak, A., Półturzycki, J. (2011) Lifelong learning as the basis of modern education. Council (in Polish).
Elonek, M. (2011) Students - future employees of the Polish economy. Warsaw (in Polish).
Kostkevych, J., Domagala-Kreczoh, A., Szymanski, M. (2020) College during changes. Warsaw (in Polish).
Moravian, R. (2009) Polish Higher Education. Status, conditions and prospect., Warsaw (in Polish).
Novachchyk, G., Sobolevsky, D. (2011) Marketing at the University. Poznan (in Polish).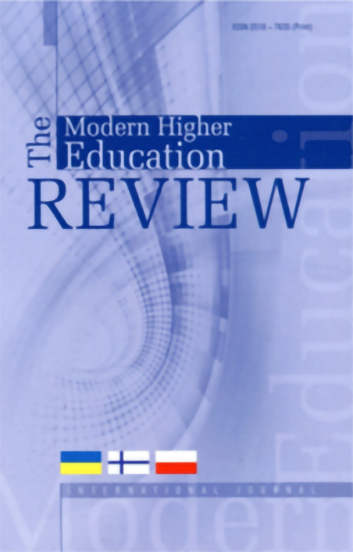 Downloads
Abstract views: 110
How to Cite
Sobczak-Michałowska, M. (2021). PRACTICAL TRAINING OF STUDENTS AT POLISH UNIVERSITIES USING WSG UNIVERSITY IN BYDGOSZCZ AS AN EXAMPLE. The Modern Higher Education Review, (6), 66–75. Retrieved from https://edreview.kubg.edu.ua/index.php/edreview/article/view/117
Section
CONTINUING PROFESSIONAL EDUCATION: THEORY AND PRACTICE