KAZIMIERZ MARCINIAK'S VIEWS ON SCIENCE TASKS
Keywords:
scientific research, higher education institution, prognostic function of science, inductivism, scientism, educational function of science
Abstract
This article is devoted to the person and his views on the role of scientific activity in the life of the university and its significance for the social life. Kazimierz Marciniak represented geography and he specialized in climatology and bioclimatology. His extensive academic experience, gained through studies and scientific work at several Polish universities and in the Institute of Balneology in Poznań, made him not only an excellent researcher, but also a scholar whose views on the role of science in the life of the university and in social life were influencing the generation of representatives of many sciences who worked at the WSG University in Bydgoszcz. The convictions of the scholar in question, his broad vision of science not only as an enterprise calculated on commercial values, place him among the outstanding Polish scientists and philosophers. He shared with them not only the conviction about the cognitive function of science, which was engaged in economic activity, but also noticed its highly humanistic and ennobling role in relation to the researcher, in which the creative aspects of his work are present. Scientific work also contributes to the improvement of the educational process. Participation of a student, in any form of scientific activity, shapes his intellectual and even moral skills, educates in the spirit of the culture of the word, especially the written one. In the opinion of the discussed author, the main function of science for the entire social life is to forecast phenomena. Exploratory and exploratory functions are important, however, they are subordinated to the former. His methodological and philosophical views on the structure and dynamics of scientific theories were characterised by inductivism and probabilism. Some of his views on the questions of the nature of phenomena, the structure of reality and the relation between scientific theory and reality, were not presented in an unambiguous way; it also seems that they evolved towards anti-phenomenalism, anti-foundationalism and essentialism, which distanced him from scientism, as a worldview quite characteristic of representatives of the natural sciences of the 20th century.
Downloads
Download data is not yet available.
References
Marciniak, K. (2000). Professor Gabriel Wójcik on his 70th birthday. Acta Universitatis Nicolai Copernici Geografia, 31(106), pp. 7-19. (published in Polish)
Marciniak, K. (2001). Polarist and climatologist. Seventieth anniversary of Prof. Gabriel Wójcik's birthday, Voice of the University, No. l , p. 12. (published in Polish)
Marciniak, K, Interuniversity cooperation with Toulouse, Kujawsko-Pomorskie Promotions, 9(3), p. 17. (published in Polish)
Marciniak, K. (2004). It was the right decision. Kurier Uczelniany WPSTiH Journal, Jubilee Edition, p. 11. (published in Polish)
Marciniak, K. (2005). For the sixth birthday. Kurier Uczelniany. Quarterly magazine of the WSG University in Bydgoszcz, No. 14, p. 7. (published in Polish)
Marciniak, K. (2017). Reports and records, Unpublished material from 2000-2016, 10 notebooks, Bydgoszcz, the WSG University. (published in Polish)
Wójcik, G., Przybylak, R., Marciniak, K. & Kejna M. (2007). Scientific activity. In: R.,
Przybylak, M., Kejna, K., Marciniak (Ed.). Scientific and didactic activities of the Department of Climatology of the Institute of Geography at the Nicolaus Copernicus University in the years 1947-2007 (pp. 49-92). Toruń, Wydawnictwo Uniwersytetu Mikołaja Kopernika. (published in Polish)
Wójcik, G., Marciniak, K. & Uscka- Kowalkowska, J. (2007). Didactic activity. In: R., Przybylak, M., Kejna, K., Marciniak (Ed.). Scientific and didactic activities of the Department of Climatology of the Institute of Geography at the Nicolaus Copernicus University in the years 1947-2007 (pp. 93-106). Toruń, Wydawnictwo Uniwersytetu Mikołaja Kopernika. (published in Polish)
Kamiński, S. (1981) Concept of science and classification of sciences. LublinTow. Naukowe KUL, Lublin. (published in Polish)
Maciołek, R. (2010). The activity of the Jubilarian Rector Professor Kazimierz Marciniak at the WSG University in Bydgoszcz in the years 2000-2010. In R., Maciołek, W., Maik & K., Sikora (Ed.). Problems of science and higher education in a knowledge-based society. Papers dedicated to Professor Kazimierz Marciniak on the seventieth anniversary of his birthday (pp. 25-38). Bydgoszcz, Wydawnictwo Uczelniane Wyższej Szkoły Gospodarki. (published in Polish)
Przybylak R. (2016) Kazimierz Marciniak (1940-2016). Geophysical Review. 61(3-4), pp.273-274. (published in Polish)
Wójcik, G. (2010). Scientific, educational and organisational activity of Kazimierz Marciniak, PhD, professor of the WSG in Bydgoszcz. In R., Maciołek, W., Maik & K., Sikora (Ed.). Problems of science and higher education in a knowledge-based society. Papers dedicated to Professor Kazimierz Marciniak on the seventieth anniversary of his birthday (pp. 15-24). Bydgoszcz, Wydawnictwo Uczelniane Wyższej Szkoły Gospodarki. (published in Polish)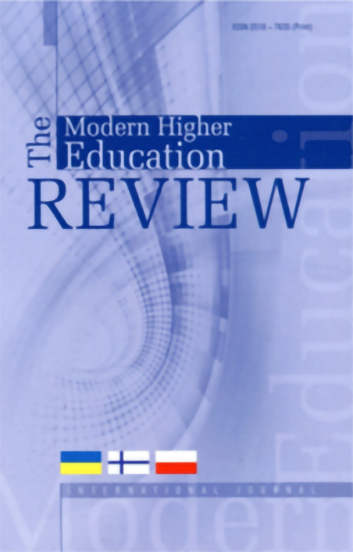 Downloads
Abstract views: 134
How to Cite
Maciołek, R. (2021). KAZIMIERZ MARCINIAK'S VIEWS ON SCIENCE TASKS. The Modern Higher Education Review, (6), 26–45. Retrieved from https://edreview.kubg.edu.ua/index.php/edreview/article/view/114
Section
CONTINUING PROFESSIONAL EDUCATION: THEORY AND PRACTICE