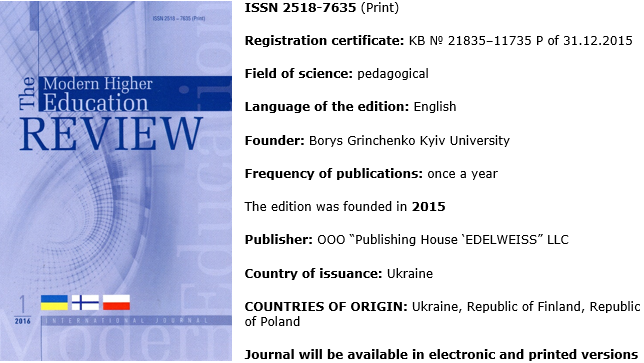 AIM: Journal "The Modern Higher Education Review" is an international, professional, scholarly and peer reviewed journal, published in English by Borys Grinchenko Kyiv University, Educology Research Laboratory (Ukraine); University of Tampere, School of Management, Higher Education Group (Finland); University of Silesia in Katowice, Faculty of Ethnology and Educational Science in Cieszyn (Poland); Pawel Wlodkowic University College in Plock, Faculty of Pedagogy (Poland).
Its MISSION is to expand international integration in research in higher education and to model open and informative interdisciplinary forum for discussion and debate about higher education's issues.
The main scientific directions of interest for the Journal
Research Methodical and Methodological Support for Higher Education  Reforms
History of Higher Education
Actual Problems of Higher Education
Create and Implement New Pedagogical Technologies
Renovate  Higher Education Content in Accordance with Modern National and International Academic, Cultural and Pedagogical Achievements
Develop Recommendation on Formulating State Policy in Higher Education
Conduct Comparative Research on Higher Education Systems of Other Countries and Define the Possibilities of Their Practical Implementation in Higher Education Reform in Ukraine
Quality, Evaluation and Development of Higher Education
Organization, Administration and Management of Higher Education
Finance and Financial Administration of Higher Education
Social and Cultural Aspects of Higher Education
Continuous Professional Training in Higher Education
PURPOSE: The publication is addressed for postgraduate students and  researchers, for everyone who is interested in problems of modern higher education and its impact on socio-economic, spiritual and cultural development of society.
For additional questions contact the editor of: Nina Batechko, doctor of pedagogical sciences, leading researcher at the Educology Research Laboratory, n.batechko@kubg.edu.ua
Educology Research Laboratory, Borys Grinchenko Kyiv University, 13-b Tymoshenko Str., 04212 Kyiv, Ukraine, ndl.osv@kubg.edu.ua